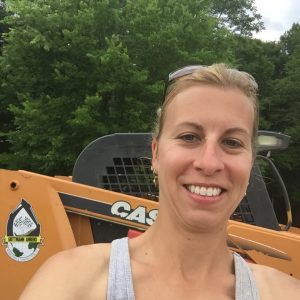 Collena Ahrens, P.E.
President
Collena graduated from Southern Illinois University Edwardsville with a B.S. in Civil Engineering in 2004 and from Lindenwood University with an M.B.A. in 2008.  She began her passion for engineering as a young girl often accompanying her father to "take your daughter to work days" at the District 8 IDOT office.  She has been involved with local STEM and Expanding your Horizons conferences, which promotes the fields of science, technology, engineering and math to young students.  After graduating from SIUE, Collena began her career as a design engineer with Thovenot, Wade, and Moerchen gaining experience in storm sewer design, commercial land development, traffic studies, and intersection design.  After a few years with TWM, Collena moved on to a women-owned startup, Kaskaskia Engineering Group, where she gained a wealth of knowledge about business development, geotechnical engineering, furthered her skills in transportation design and traffic operations, and became a registered professional engineer.  To gain experience in public sector engineering, Collena later moved onto the United States Transportation Command where she has served in a variety of roles to include an engineer in infrastructure studying transportation capabilities of overseas ports and airfields, and capability assessments in support of moving large systems on overseas public transportation systems.  As an engineer in  Ports for National Defense  studying United States seaport capabilities, as the En Route Team Lead studying global supply chain logistics, and as the assistant engineer for the Railroads, Highways, and Defense Access Road Programs for National Defense.  Collena enjoys spending time with her family, boating, and pursuing HGTV inspired home improvement projects.
Tim Ahrens Jr.
Vice President
Tim also graduated from Southern Illinois University Edwardsville with a B.S. in Civil Engineering in 2003.  He began his career early on as a laborer, mechanic, and operator for his dad's contracting company at a very young age.  He has been involved in the American Public Works Association at the state level serving as secretary and treasurer.  Tim began his career after graduating from college with TA Contracting estimating projects for bidding and managing demolition and excavation projects of various magnitude.  In 2008, after the birth of his first child, Tim decided to move on to pursue an engineering career.  He began his public sector experience with the City of Fairview Heights as the Assistant City Engineer and later moved into the Acting Public Works Director position.  An opportunity closer to home presented itself in 2010, and Tim began working as the Assistant City Engineer for the City of Columbia Illinois.  After the resignation of the City Engineer, Tim stepped up to act as both the City Engineer and Public Works Director.  Tim has certifications from IDOT to include.  Tim enjoys spending time with his family, spoiling his little girl, boating,  tinkering with equipment, and attending local auctions.
Our Amazing Family, Clients, Subcontractors, and Support Network
The Backbone of Our Organization
We couldn't do half of what we do here at Guttmann Ahrens Engineering & Construction if it wasn't for our awesome family, clients, subcontractors, and support network. We have mentors, service providers and many other expert individuals who help us help our clients. Rest assured that unlike your average engineering & construction firm, we are constantly working together with other consultants and contractors to ensure you get the services you need at the best value.
We'd especially like to mention our two young sons who put their own little hands to work to help daddy in any way they can and whenever asked.  We aspire for them to gain a lot of experience and knowledge from us on this adventure, but always have their own hopes and dreams for life at the forefront of their dreams.  We consider ourselves lucky to be able to run our business while keeping the priorities of life in check.